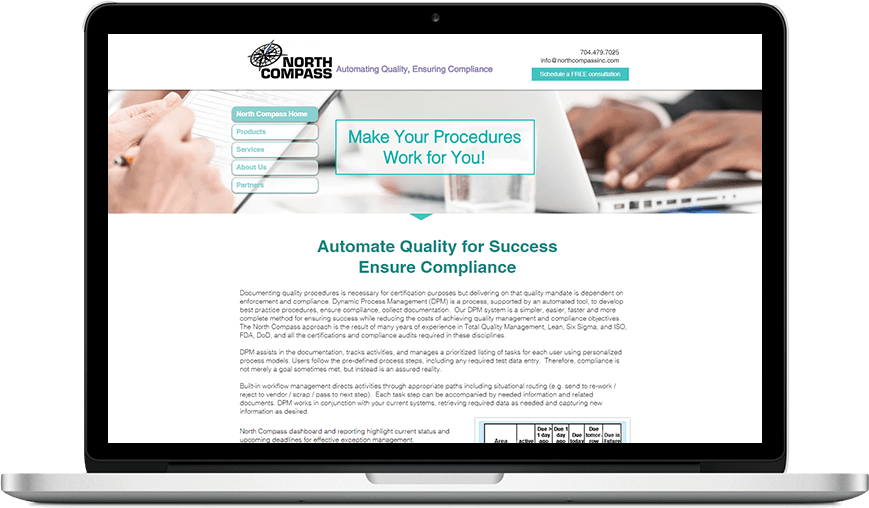 Case
Powerful Document Management System to Automate Paper Reporting
About
North Compass is a North Carolina company that specializes in electronic document management and automated process workflow software, revolutionizing the way reports are generated and utilized within a customer's business.
Challenge
Tizbi's task is to customize North Compass products to the customer's system, to make it optimized to the customer's own business model. The goal is to help businesses with paper reports, files, and inventory by managing all their information and internal reporting digitally.
Tizbi Solution
The solution to these challenges was the creation of North Compass' Document Process Management system (DPM), designed as a process-driven document manger that allows information to flow intelligently through the customer's business. DPM is a powerful tool that organizes reports and document generation according to workflow within the customer's business model, freeing employees from time consuming paper reporting systems to be productive at their work.
Technological Info
The technology incorporated in this project included:
Customer Testimonials
Many of our customers offer tours of their facilities so that you can better understand how our solutions can add value to your business.
Please contact us to schedule a tour.
Make Your Business Vision a Reality
Step 1
Tell us about
your business needs
Step 2
We analyze and
contact you
Step 3
We provide a FREE
no obligation estimate
Get a Free Quote
Scan the following QR-code to get a free consultation
Let's Discuss Your Project or the Software Team You Need